In January 2012, I put together a map of the three UK major labels, explaining how each one is structured. It turned out to be one of the most popular posts ever on This Must Be Pop, and I got loads of great feedback. Since then there have been some substantial changes, for example the merger of Virgin and EMI, and Warner's purchase of Parlophone, so I decided it was time for an update. The structure of each major label is very complicated and ever-changing so there may be some errors here, but I've done the best I can with the knowledge I have and information available online.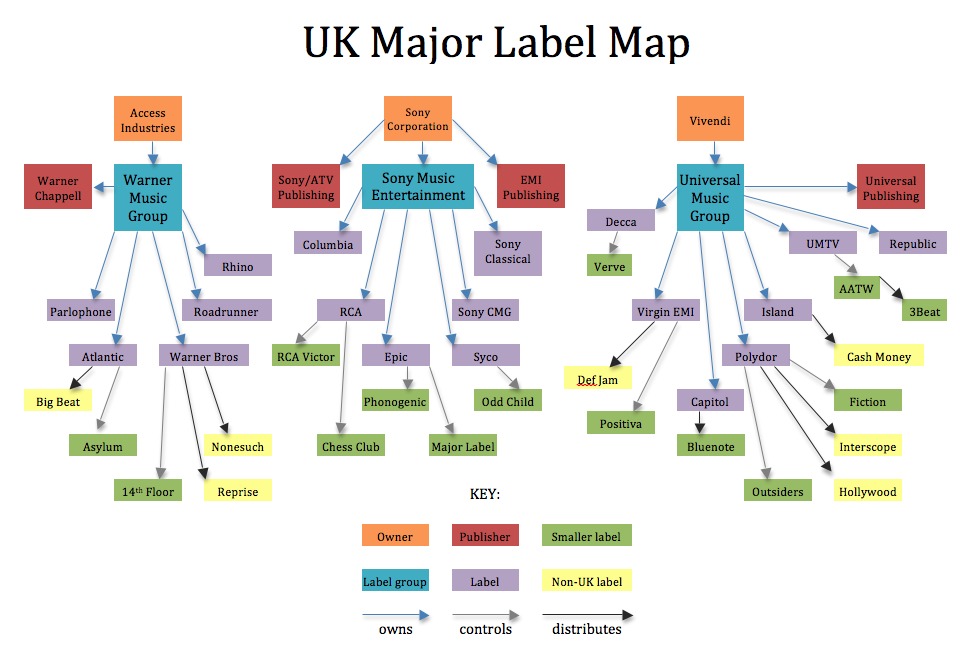 Click on the image above to see a bigger version.
Until recently, there were four major label groups: Sony Music Entertainment, Universal Music Group, Warner Music Group and EMI Music. However, in November 2011 EMI Music (which was struggling financially) was bought by Universal, meaning that there would now be just three majors. With Sony and Universal being much larger than Warner, Warner was given the name "the mini-major" by the industry press. So, let's start with the baby of the bunch:
1. Warner Music Group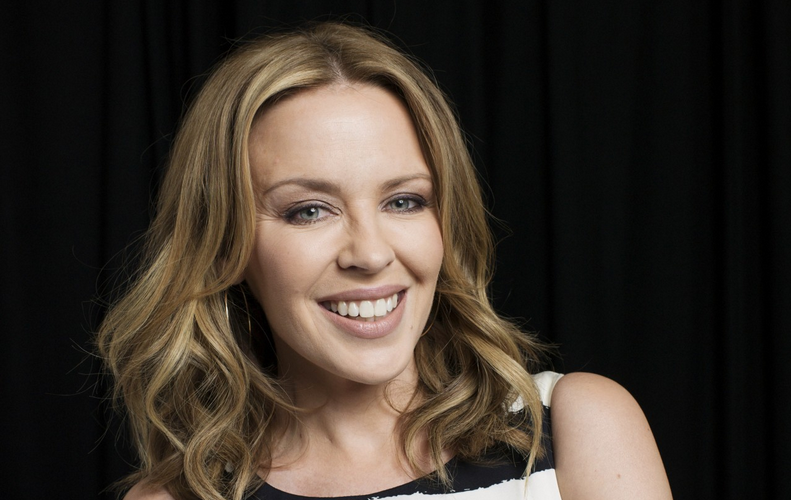 Here are the labels that are part of Warner Music Group in the UK:
Atlantic – A mix of commercial genres but their British artists are mostly bore-pop e.g. Ed Sheeran, Birdy and James Blunt
Within Atlantic: Asylum (Rudimental)
Also released by Atlantic for the UK: Big Beat (Skrillex)
Parlophone – formerly part of EMI and recently bought by Warner, artists include Kylie Minogue, Coldplay and Conor Maynard
Rhino – Mostly reissues, nothing exciting
Roadrunner – Rock and metal ranging from Slipknot to Nickelback
Warner Bros – A mix of indie (Foals, Muse) and adult contemporary (Hugh Laurie, Lianne La Havas) acts
Within Warner Bros: 14th Floor (Biffy Clyro)
Also released by Warner Bros for the UK: Nonesuch (music my dad likes), Reprise (Michael Bublé, Josh Groban)
2. Sony Music Entertainment
Here are the labels that are part of Sony Music in the UK:
Columbia – Lots of big names, mostly quite Radio 1 e.g. Calvin Harris, Rita Ora
Epic – Mainly pop acts including Olly Murs, Example and Foxes
Within Epic: Phonogenic (The Script), Major Label (Hurts)
RCA – A mix of adult contemporary (Paloma Faith, Rebecca Ferguson) and pop (Union J, Neon Jungle)
With RCA: RCA Victor (Laura Mvula), Chess Club (MØ)
Sony Classical – Classical music released by Sony – simple!
Sony CMG – Reissues and compilations
Syco – Simon Cowell's label, home of X Factor singers e.g. One Direction, Little Mix
Within Syco: Labrinth's label Oddchild (Etta Bond)
3. Universal Music Group
Here are the labels that are part of Universal Music Group in the UK:
Capitol – The new UK arm of the US label Capitol, home to Katy Perry, plus new signings such as 5 Seconds of Summer and Sam Smith
Also released by Capitol for the UK: Blue Note (jazz)
Decca – Universal's classical music division
Within Decca: Verve (jazz music)
Island – Founded in Jamaica, artists tend to be commercial but not pure pop e.g. Florence and the Machine, John Newman
Also released by Island for the UK: Cash Money (Nicki Minaj)
Polydor – Lots of pop here, ranging from The Saturdays to Ellie Goulding, plus indie and rock such as The 1975 and Frank Turner
Within Polydor: Fiction (Elbow), Outsiders (Joel Compass)
Also released by Polydor for the UK: Interscope (Lana Del Rey), Hollywood Records (Demi Lovato)
Republic – A few UK acts, such as Daley and Ruen Brothers, but it's mainly a US-based label
UMTV – Compilation albums, reissues and one hit wonders
Within UMTV: All Around The World (Tich) and 3Beat (Martin Solveig – distributed via AATW)
Virgin EMI – The result of the merger between Virgin (Bastille, Emeli Sandé) and Mercury (The Vamps, Jake Bugg)
Within Virgin EMI: Positiva (David Guetta)
Also released by Virgin EMI for the UK: Def Jam (Rihanna)
Side note: Publishing
While record labels own the rights to recordings made by the artists they sign, they do not own the rights to the actual songs. A songwriter, whether they record the songs they write or write them for others to record, can choose to sign a contract with a publishing company which passes over the copyright of the writer's songs to that company. The publisher then makes sure the writer gets the royalties they are due, and helps them to earn more money by pitching their songs to artists to record and suggesting them for synch deals (to appear on TV shows, adverts etc).
Each of the major record labels shares their name with a publishing company, but the relationships between those companies differ. Warner Music Group owns the publisher Warner Chappell and Universal Music Group owns the Universal Music Publishing Group. However, Sony/ATV Music Publishing is slightly different – it's owned directly by the Sony Corporation, which also owns Sony Music as well as Sony Ericsson, Sony Pictures and many other Sony things. When EMI Music was sold to Universal, EMI Publishing was sold to a group of investors led by the Sony Corporation, so it has no association with Virgin EMI (which is now owned by Universal).
Want to keep up to date with the labels' latest signings? Subscribe to my weekly Future Pop mailer.
Hoping to find a job in the music industry? Come along to This Must Be Pop's next Pop Meetup.