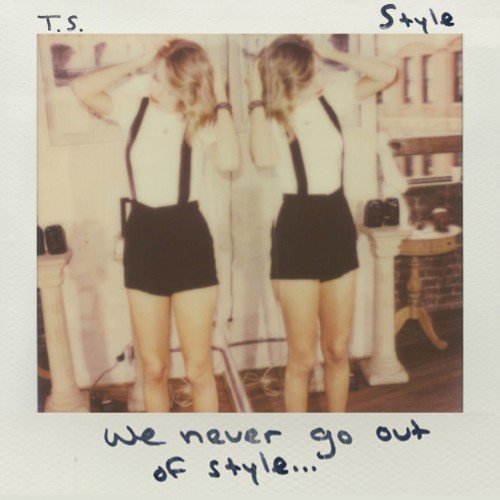 Released: 9th February
Writers: Taylor Swift, Max Martin, Shellback, Ali Payami
Best bits: 1. "Just take me ou-ou-out!"
2. "Ohh, you got that James Dean, day dream, look in your eyes"
3. "We never go out of style"
When I chose Taylor's Out of the Woods as my Most Poptastic Single of 2014 (a promotional single at the time, and ironically set to become an official single in 2016, with the video premiering tonight!), I had an inkling that Style would be my no.1 in 2015. I spent the year hoping to find a song to top it, and occasionally toying with the idea that one of the other tracks in my top 5 might be more deserving. That amazing riff in King was particularly persuasive. But listening to Style again now, it's still the clear winner. The Max Martin/Taylor Swift combination is just too hard to beat.
Style was an immediate stand-out track on 1989 for many listeners, but for me, with my preference for noisy, obnoxious pop, it took a little longer. It's not an instant burst of energy like Shake It Off or a sassy revenge anthem like Bad Blood. Instead, it's a classy, simple tune that doesn't need to shout about its brilliance, because it knows it'll be discovered. Style wasn't a major commercial hit, but it's a personal favourite for legions of pop fans and a track that convinced many haters not to hate hate hate Taylor… for a while at least.
In September I wrote about Taylor's progression from country star to pop superstar, and the new challenges she faced. The 1989 era has been a clear triumph, but I said that I hoped she would take some time out of the spotlight at the end of her current tour to redress the over-exposure she's had in 2015. According to interviews she's done since, it sounds like she has that very plan in mind. So I look forward to finding someone else to award my Most Poptastic Single title to in 2016, and to hearing what she comes up with for her next album, whenever that may be. Take your time Taylor, but don't forget to make it amazing. And obviously, give Max a call!